Convention avec la Loterie Nationale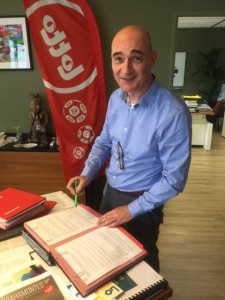 En date du 2 juin 2016, l'Administrateur délégué de la Loterie Nationale, Monsieur Jannie Haek a ratifié la reconduction de la convention entre les partenaires institutionnels du projet « Be Gold »: l'ADEPS, Sport Vlaanderen, la Communauté germanophone, le Comité Olympique et la Loterie Nationale. L'aide financière «Be Gold» permet de soutenir des jeunes talents sportifs dans leur parcours en répondant aux besoins spécifiques et individuels tout au long de leur évolution vers le plus haut niveau.
Par le biais de cette convention, la Loterie Nationale continue jusqu'en 2022 à soutenir le projet « Be Gold » à raison d'un budget annuel de 1.187.500 €. Grâce à ce partenariat, la Loterie Nationale entend donner la possibilité aux meilleurs jeunes talents sportifs de s'épanouir dans le sport de haut niveau en leur octroyant les moyens pour accomplir leur objectif ultime : la réalisation d'un Top 8 aux Jeux Olympiques.